STYLES AND SIZES
We create each wreath in one of the following greenery types. Our 24" wreaths are perfect for a standard sized door but we also have larger sizes available. Prices typically range between $155-$295 depending on size and materials used.

© Circle Home and Design 2017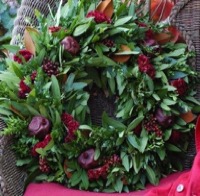 Bay or magnolia wreaths will go through a natural drying process where the bay leaves turn a sage green colour and curl slightly to create dimension and depth. Magnolia leaves will show their suede-like brown side when dried. With care, these wreaths will last a season or two on a protected front door, or many, many years if displayed indoors. 
Preserved salal wreaths maintain their appearance as the greenery does not go through the natural drying process.
Fresh evergreen wreaths will be fragrant and lovely displayed outdoors in cold winter temperatures and can even be brought indoors as a table circle during the holiday season!




TO ORDER
To order outside of the holiday season, please email us your design choice from our Contact page. When we've confirmed the details with you, we'll email you an invoice that can be paid directly online through our secure payment provider. If you need assistance selecting the design that's just right for you, please let us know so that we can help!